Adinf32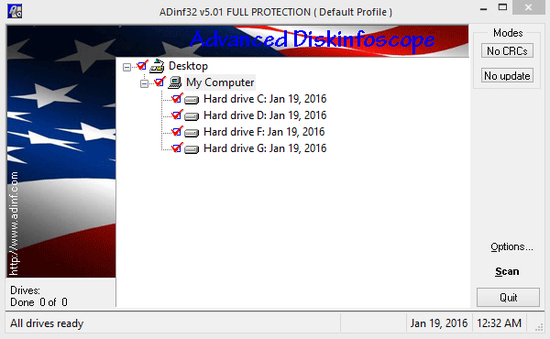 Download URL | Author URL | Software URL | Buy Now ($9.99)
ADinf32 is the celebrated antivirus and security tool used in Russia over 20 years. Fully updated to current industry standards, ADinf32 scrupulously evaluates a system for full data integrity and security, and for other data modifications. ADinf32 is currently used by hundreds of thousands of important institutions and individuals, including such notable corporate users as the Central Bank of Russian Federation and the Russian Ministries of Defense and Economics, which use ADinf32 on almost all of their computers! Many users run ADinf32 every day to check their systems - considering this program their most reliable instrument for virus detection. To find a lost file, to analyze the results of a system failure, to make sure databases and documents are safe, to figure out why all free space on your hard disk is gone, to detect and neutralize a computer virus - all this can be done by ADinf32.
An important feature that makes ADinf different from other disk inspectors and integrity checke
Related software (5)
Don't Get Caught! XQik! will close those multiple adult browser windows FAST, keeping your activities from view! No more proliferating windows when you click the X, no more unrespo ...
Undelete 2009 captures and protects all deleted files, allowing instant file recovery with just a few mouse clicks.

Tweaking Toolbox Vista is the ultimate Windows Vista tweaking utility! Change hundreds of Windows settings, improving appearance, performance, security and functionality. Helps you ...

The next-generation anti-virus tool utilizies the power of more than 50 virus scanner at once and combines them in a unique tool. Common gateways like download or desktop folders g ...

This software is a computer management tool. Applied it doubles the life expectancy of any computer while saving electricity. The software's savings will far exceed a computer's i ...